Tue21Feb9:00 am5:00 pmBevMAX Refresh9:00 am - 5:00 pm Chippenham
ChippenhamPipsmore Park, Bumpers Farm Industrial Estate, Chippenham, United Kingdom, SN14 6NQCrane Merchandising Systems EMEA & APAC Headquarters
Course Details

Please view course content on the PDF link below.

These courses are available to current customers of Crane Merchandising Systems and are structured for delegates who already have an understanding of safe working practices on electrical circuits and of testing electrical circuits and components using a multi-meter.

Crane product training courses are NOT intended for delegates with no prior knowledge of the safe repair and servicing of electrical equipment, preferably within the vending industry.

The price for this training course is £100 per delegate. Upon booking the course, our technical department will contact you with a quotation.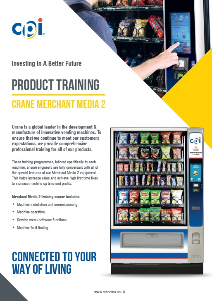 Date

Tuesday 21st 2023 - Tuesday 21st 2023
Chippenham
Pipsmore Park, Bumpers Farm Industrial Estate, Chippenham, United Kingdom, SN14 6NQ
Book
Maximum of two delegates per company per course
Trainers
Dave AkersRegional Service Managerdave.akers@cranems.co.uk